Psycroptic: Release Early Years Boxset
Author: Agent Orange Date Posted:1 December 2014
PSYCROPTIC: RELEASE EARLY YEARS LP BOXSET
Australian metal legends,
Psycroptic
are set to release an amazing box set this week!
The band are preparing to hit the road across Australia next week for the
heaviest tour of the year
along with
Revocation
and
Thy Art Is Murder
and will be grearing up for the release of their long awaited new album, coming in March
via
EVP Recordings
in Australia (
Prosthetic
rest of the world)
The Early Years Box Set contains the bands first three albums on 200g heavyweight vinyl and include a bonus 7 inch.
Strictly limited quantities are available and the box set comes in TWO versions (Black & Colour)
The LP's are also available individually in Black only.
PSYCROPTIC - THE EARLY YEARS: BLACK BOX (3LP + 7INCH VINYL) (3LP) - Available Dec 12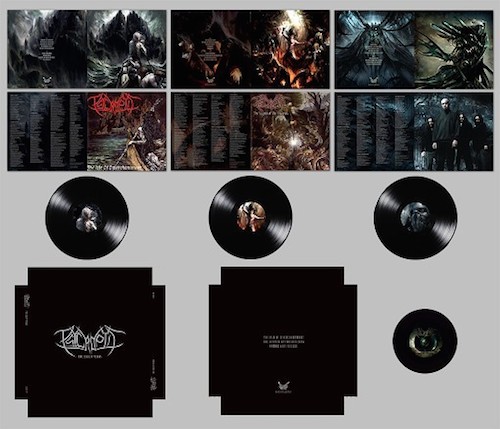 The very long-awaited vinyl premiere of one of the most classic technical death metal bands - Psycroptic - is finally here.
One of the first three projects signed to Blood Music - this has taken nearly three long years to come to fruition.
The box set - entitled The Early Years - features the band's first three albums on deluxe, 200-gram heavyweight vinyl in 350gsm heavyweight board gatefold jackets.
The first two albums - The Isle of Disenchantment and Scepter Of The Ancients - feature brand new hand-painted covers by Mitchell Nolte, overseen by the band.
And the third album - Symbols Of Failure - features the original album artwork in ultra-high resolution.
There is also a bonus 7", featuring cover tracks by Carcass, Morbid Angel, and Slayer. This is the first time those cover tracks have been available on a worldwide scale.
The BLACK version of the box set contains
* First-time pressing of Psycroptic's first three albums - highly classic technical death metal masterpieces.
* Three 200-gram Heavyweight Black LPs.
* 70-gram Black Heavyweight 7", featuring rare bonus tracks only available inside the box set.
* Mastered specifically for vinyl from the original mixes.
* Three 350gsm heavyweight gatefold jackets with black inner flood printing.
* Brand new hand-painted cover art on the first two albums and the ultra-high resolution original cover art on "Symbols of Failure."
* Black inner sleeves.
The COLOUR version contains the same as the above with the vinyl colours as
Heavyweight Smashed Colour LP (Isle = Grey/Black | Scepter = Orange/Black | Symbols = Blue/Black) - Only available on coloured vinyl inside the box set.
Strictly limited to only 30 copies in Australia and 150 Worldwide. The 7" will not exist outside the box set.
BLACK
COLOUR
The albums will also be available individually on 200g Black vinyl from December 4
PSYCROPTIC - ISLE OF DISENCHANTMENT (LP)
PSYCROPTIC - SCEPTER OF THE ANCIENTS (LP)
PSYCROPTIC - SYMBOLS OF FAILURE (LP)
---
Leave a comment